Welcome to Thrive Pilates
We are a fully equipped Pilates studio located downtown Aberdeen, North Carolina. At Thrive, we do more than teach Pilates. We educate, inspire, and empower.
Daily Mat & Barre Classes
The Pilates Mat work forms the foundation of the Pilates method. Class sizes are kept small to allow for more personal experience and a deeper connection to the body and the core principles of the Pilates method. Mat classes are a great place to improve the basic Pilates techniques. One Private session required prior to joining our Mat classes.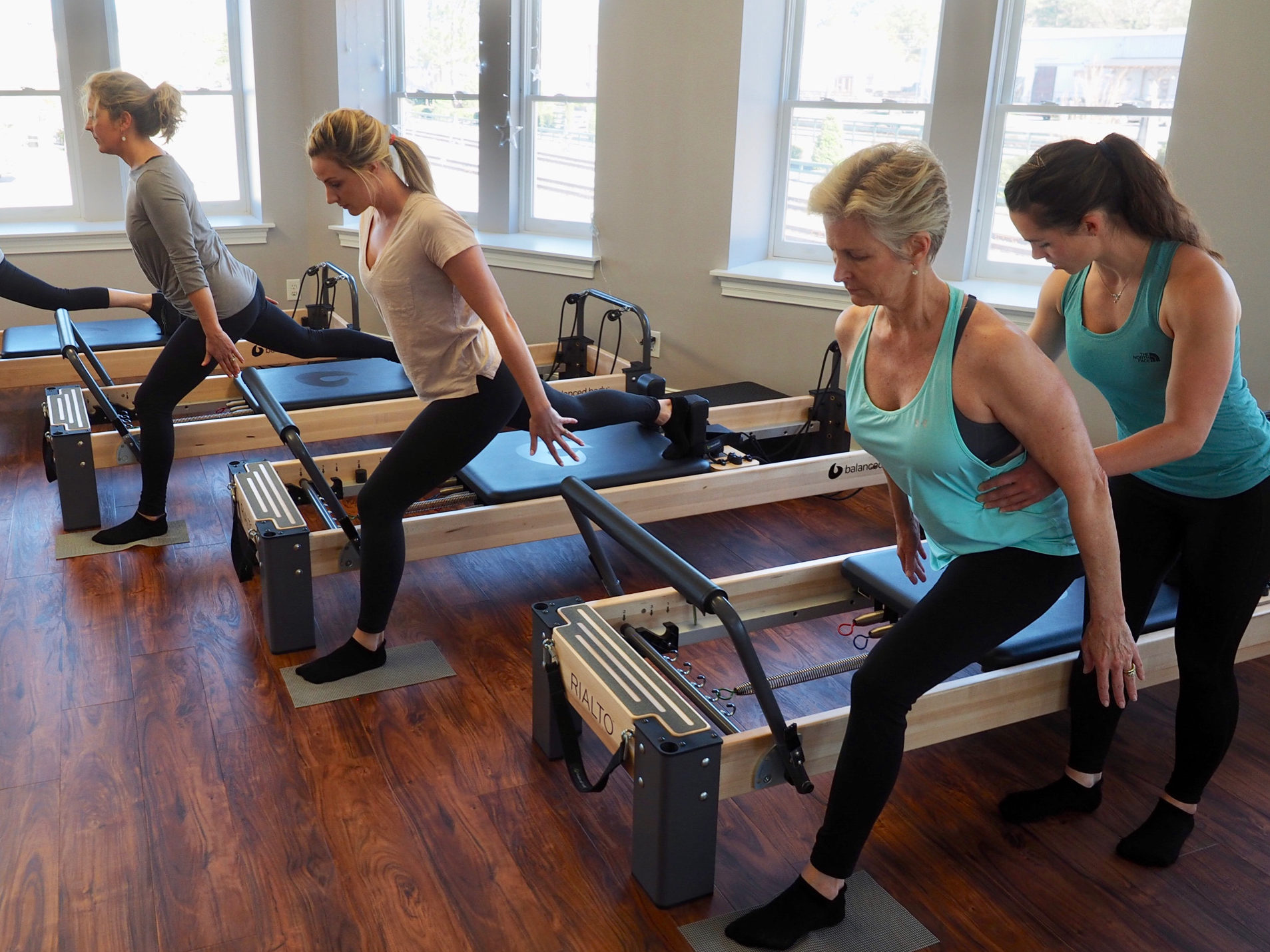 Private & Semi-private
Equipment Sessions
Private and semi-private Pilates sessions incorporate any or all of the specialized Pilates equipment, including the Reformer, the Tower, the EXO Chair, as well as work on the Mat with props. Specialized and body-specific instruction make these sessions unique. We are happy to work with athletes of any age and have expertise with tennis players, golfers, runners, equestrians, and dancers.
Group Equipment Classes
Group Equipment classes are perfect for students with experience on the Reformer and/or EXO Chair and familiarity with the Pilates repertoire. Levels range from Beginner to Advanced, with Therapeutic options for all levels. A minimum of 3 private sessions is recommended prior to joining a group equipment class.
About Our Studio
Thrive Pilates Studio is a fully equipped Pilates studio located downtown Aberdeen, North Carolina. We offer daily mat and barre classes, private, semi-private, and group equipment sessions, and special events. Meet our instructors ›
Whether you are just beginning your journey back to movement health or you are a professional or recreation athlete looking to up your game, we work with you to achieve your personal goals. In addition to Private and Semi-private sessions, we offer a variety of classes to meet the fitness and therapeutic needs of each client. Our instructors are extensively trained in Pilates, anatomy, biomechanics, and physical limitations. We do not offer memberships or contracts, but personalize your practice by working in private and small group settings.
We create a safe space for movement, strength building and balance to ensure proper alignment, muscle development and injury prevention.
Thrive is a community. We strive to provide a warm, welcoming environment for everyone and continue to stay dedicated to our original mission of providing a personalized and positive movement experience.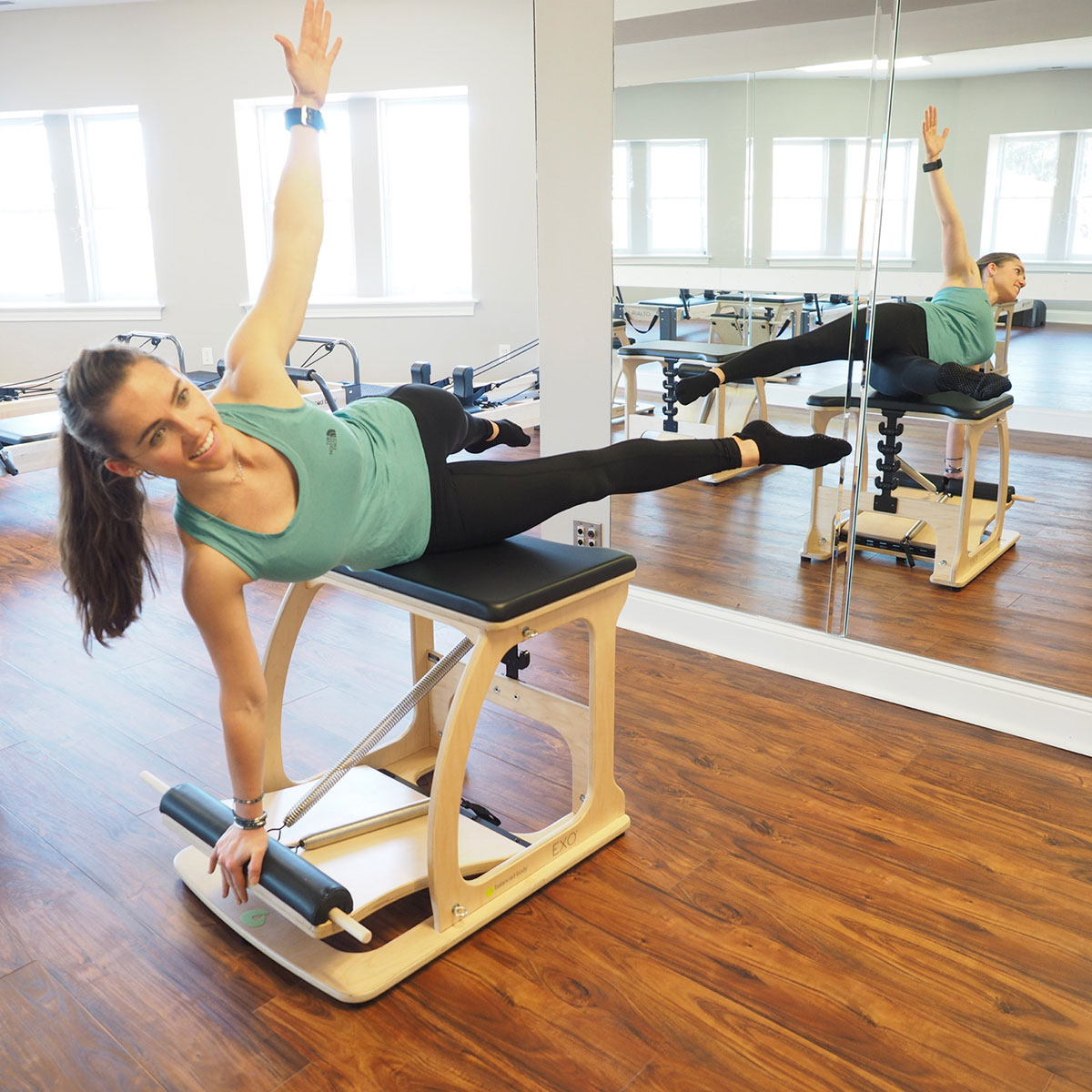 The Pilates Method, founded by Joseph H. Pilates in the 1920s, is based on a unique and proven philosophy of fitness that incorporates a precise and highly refined approach to teaching movement.
The method consists of floor exercises (called Mat work) and exercises on specialized Pilates equipment. The exercises are designed to uniformly strengthen the entire body, training several muscles at once so that no muscle group is over or under-trained. A body with balanced strength and flexibility is less likely to be injured and better able to move efficiently.
Pilates is a safe, body-friendly exercise method that allows for various modifications to accommodate any type of condition. Quality of movement is emphasized over quantity to leave you energized and balanced after a session, not tired and sore.
Benefits of Pilates:
Develops core strength
Creates a balanced body
Increases flexibility and range of motion
Improves body awareness
Promotes proper alignment and stability
Develops uniform strength in muscles
Elongates and strengthens muscles
Offers low impact on joints
Improves posture
Promotes proper breathing
Pilates is complete coordination
of body, mind and spirit.
Joseph Pilates
Contact Us
If you have questions about our classes, please text or email us!
101 W. South Street, Aberdeen NC